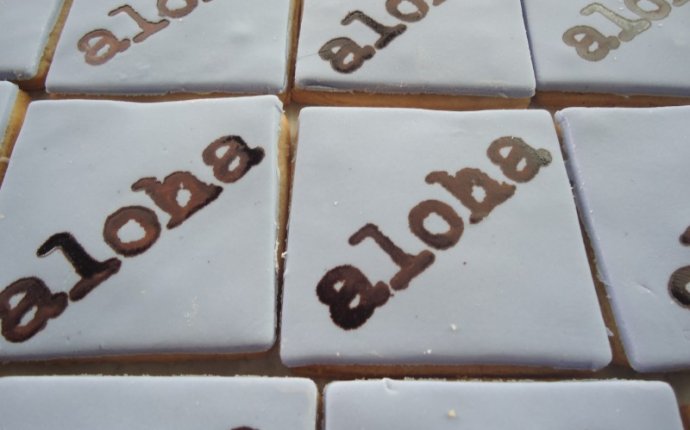 Wedding favors Hawaii
By Natalie Schack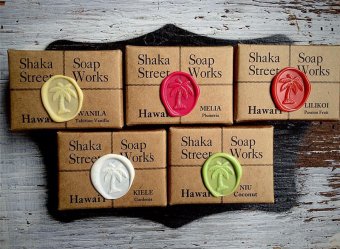 Photo: Shaka Street Soap Co.
Weddings include treats aplenty, and, while no guest is in it just for the free cake, there's no harm in celebrating the occasion with a gaggle of goodies. And passing out favors is a fun way to say "thank you." Remember that your guests are often investing travel time, vacation days and hard-earned moola celebrating with you, and sending them home with a token of your appreciation is a sweet way to acknowledge that.
Favors are also one of the easiest, most memorable ways to infuse a little personality into the day, whether that be driving your theme home (wave-shaped bottle openers at a beachy wedding, anyone?) or making it a celebration of the two of you (think teeny samplers of your famous homemade marshmallows). In the Islands, we have it even easier, thanks to our statement-making tropical location. That's why tapping into the abundance of local flavors and creations that showcase Honolulu's unique style is one of our favorite ways to wow guests with favor-worthy finds. Check out some of our top picks here:
1. Natural Soy Wax Candles
Makana Candles are beautiful ways for visiting guests relax to post-wedding-festivities. They feature elegant, gorgeous packaging (wrapped up in little canvas bags!), luxurious tropical scents and an unbearably cute, teeny travel-size offering. $12, .
2. Luxury Soap
Can you imagine these wee beauties from Maui-based Shaka Street Soap Co. atop contrasting colored linens at each table setting? $5 each.
3. Flavored Cigars
Cigars are a luxurious and old-world way to treat guests, and Hula Girl comes in flavors that include cherry macadamia nut and vanilla rum. Not everyone's bag? Mix in some locally made lollipops for the smoke-averse, like these custom hard-candy favors from Simply Ai Candy. $115-$125 for a box of 24 cigars.
4. Premade Cocktails
Kōloa Rum makes deliciously sweet, premade cocktails that come complete with rum, juice and mixer—just chill or add ice! We love the idea of plopping these onto guests' chairs pre-ceremony to start the party a little early. 200-mL bottles available at Safeway, $15.99 per pack of four.
5. Yummy Cookies
Honolulu Cookie Co. cookies have a buttery texture and a photogenic pineapple shape, making them a hit with out-of-towners and locals alike. Favors range from $2.45 organza-bagged duos to $5.95 quads floral tins.
6. Local Chocolates
Hawaiian Host's ever-popular chocolate-covered macadamia nuts (or, our favorite, Caramacs) come in bags of two candies, and half-size boxes if you really want to pile on the sweets. If you've got the budget for it, Honolulu's boutique chocolatiers will blow your guests away with their rich, velvety concoctions; at some, including Choco Le'a, they'll work with you to create custom favor options tailored to your tastes.
7. Customized Fortune Cookies
Check out Honolulu Chocolate Co., because who can resist a chocolate-covered fortune cookie? You can order custom fortunes or have them come random. And the chocolate-covered goodies are varied, from dipped fruits and Oreo cookies to turtles and truffles.
Source: www.honolulumagazine.com