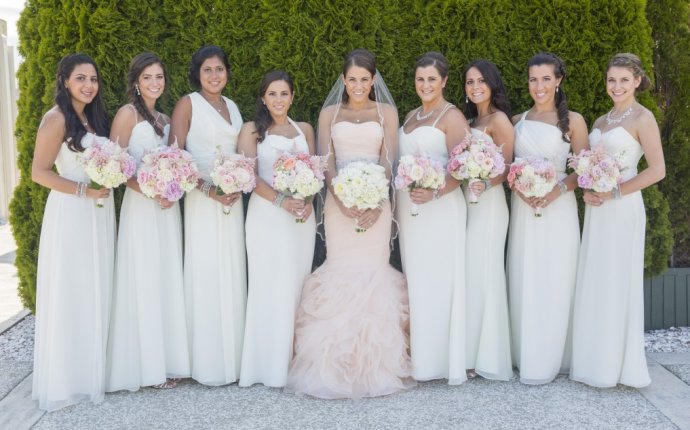 What colors go with Blush wedding dresses?
Without a doubt, color will set the tone of your wedding, whether it's a bright and bold summer soiree or a romantic winter wedding. So what color palette will you choose? With such a big style decision, making this choice can be harder than you might think. Luckily, we can help - here are the answers to your biggest color-picking questions.
Q. We love our black and white color palette and want to extend it to our cake. Are there any other colors we should or shouldn't use?
A: Lighter shades of pink, silver, and baby blue look gorgeous in fondant. The effect is classy and understated. Include a single, brightly colored bloom on an all-white cake for a pop of color. When choosing darker shades, such as black or red, be sure to use them sparingly as accents. This can be done by adding a series of black dots or red sugar flowers to white icing. Remember: The goal of any wedding cake is not only to look beautiful, but be tasty too.
Q. My colors are brown and sage. I don't think that brown bridesmaid dresses will clash with black tuxes, but everyone else says it will look bad. Is it okay to mix black and brown?
A: Despite the ongoing battle over black and brown combos, there's nothing wrong with having brown bridesmaid dresses and black tuxes. The combo can actually look elegant and sophisticated. Put the guys in black tuxes with sage ties and vests; then coordinate the bridesmaids in brown dresses with a sage sash. Or add metallic accents: Pair black tuxes with gold or champagne-colored vests and ties. The bridesmaids can wear gold shoes and accessories. The key is tying the looks together.
We'd like to give you an overview of wedding dresses for over 40 years old.
Q. I'm planning a summer wedding and am at a loss for a color combo. I'm leaning toward brighter colors instead of pastels. Do you have any ideas for June?
A: Summer is a great time to get married because almost any color palette will work. Rather than pastels, have a little fun with an uber-bright combination. Mixing teal with bright pink will definitely pop. You can tone it down for the ceremony by putting the bridesmaids in light pink dresses with fuchsia bouquets hand-tied with teal ribbon. At the reception, go all out with teal linens and use vibrant hues for your cake design. A yellow and orange palette is another bold choice. The key here is to go with a brighter yellow and a deeper orange to avoid a carnival-like look. Try flame-colored calla lilies for bouquets and boutonnieres and neutral tablecloths with burnt orange runners.
Q. I love bright coral colors and brown mixed together, but I'm getting married in the spring. Is brown too dark for the season?
A: Absolutely not! The great thing about choosing a color palette is that you can vary the shades. For a spring wedding, stick with a less intense brown - think golden versus chocolate and keep the darker color to a minimum. The coral accents will also help brighten up everything. Mix lush white blooms with cool corals and chocolate cosmos for depth. Dress your maids in coral dresses with a brown sash. Opt for neutral linens with a coral runner and use branch-y centerpieces and lots of candlelight.
Q. I want a winter wedding, but I hate the color red. Everyone seems to think that if I don't use some kind of red, my color palette will be boring. What other colors will work?
A: A lot of couples automatically feel that they're stuck with some combination of white, red, and black just because they're getting married in the winter months near the holiday season. Don't let yourself get pushed into a palette that doesn't suit you; there are lots of other choices. A great combination is white, silver, and ice blue with crystal accents. These subtle yet effective colors fit perfectly with the season and allow you to create lots of texture. Try ice blue and white tablecloths with silver chargers. Centerpieces of fresh birch branches or curly willows look stunning with hanging tea lights. Have fun with your cake by requesting tinted ice blue fondant or sparkle-dusted white fondant decorated with an edible snowflake motif.
Source: www.theknot.com