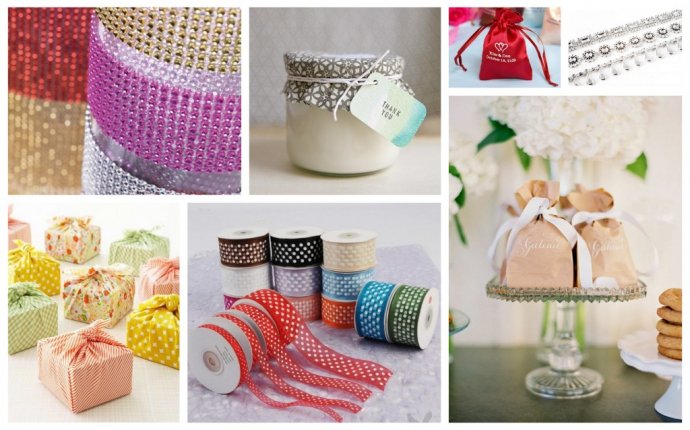 Wedding favors ideas do it Yourself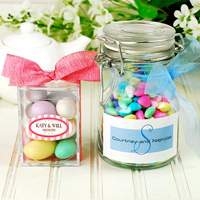 If the price tag on your wedding seems to be skyrocketing and you want to find a way to cut costs-consider making your own wedding favors. Start by browsing our DIY Favor Ideas Gallery for inspiration. With some creativity and craftsmanship, you will impress your wedding guests by giving favors that reflect your personality and style. Make your event memorable by incorporating personalized party favors such as mini glass candy jars which are sure to make a lasting impression. Furthermore, making your own wedding favors and taking advantage of wedding favor promotions can save you money that can then be spent on flowers, food or your honeymoon.
The tradition of having the Bride and Groom take part in designing wedding favors has become increasingly popular. Creating your own favors to complement your individual tastes or interests is a unique way to personally thank guests for sharing your special day. With beautiful favor boxes, ribbons and labels such as a decorative wedding gift tag, custom designer label, dainty square favor boxes or personalized satin ribbon, your wedding favor is sure to make a lasting impression. Do-it-yourself wedding favors also give you the opportunity to present a party favor that showcases a hobby or special interest.
Before you begin, think about what you would like to communicate through your wedding favors. The following are some questions that might give you some ideas:
What is a quality or characteristic that defines you, the Bride and Groom?
What is your favorite hobby or past time?
How did you meet?
What is an activity that you and your fiancé enjoy doing together?
What is the mood of your reception: formal dinner, casual party, or family get-together?
Does your reception have a theme?
Will your wedding take place during a holiday like Christmas or Thanksgiving? Does the season play a role?
Once you have decided on a message, the next step is to design a favor that will convey your ideas. If your wedding has a special theme, you can make your favor to fit the theme such as presenting heart shaped candy tins for a Valentine's theme, or take out boxes for an Asian-inspired theme or bird's nests for a spring wedding. Whatever you choose, the fact that it was hand-crafted by you with your guests in mind will guarantee success. It is wise to make the favor as simple as possible, so it's easy to assemble. This is especially important for large weddings.
The final step is to shop for the components-craft stores are a great place to find innovative, creative ideas. Online shops often offer great discount wedding favor products and free shipping based on large purchases. Once you have all the pieces, you will be ready to transform your ideas into fabulous, DIY wedding favors.
In addition to purchasing discount wedding favors, you can also make your own wedding place cards as an easy way to show your guests that special care was taken in planning their seating arrangements and this will surely add to the elegance of your special occasion.
So, if you want wedding favors that are truly unique, take the time to develop your ideas and make your own! You'll save money, and most importantly, the personal touch will show your guests that you took the extra time and effort to personally thank them for being a part of your special day.
Source: www.beau-coup.com