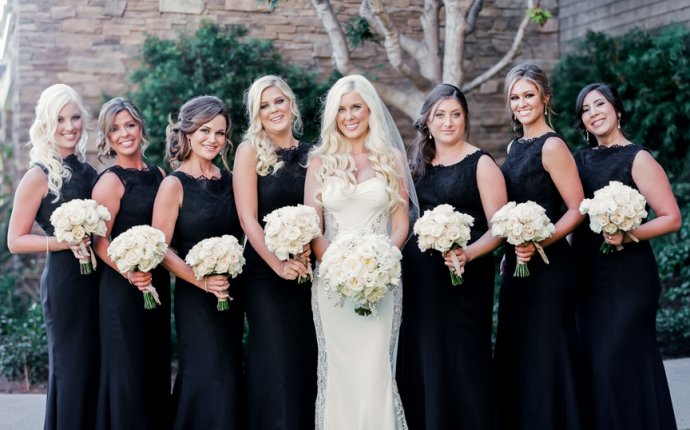 Winter wedding colors for bridesmaids dresses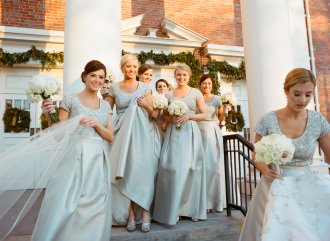 Winter brides must deal with a few challenges when choosing their bridesmaids' dresses. First, the color: the soft pastels of summer likely look a bit too light for the festive winter season, where metallics and jewel tones rule. Second, the cut of the gowns shouldn't be too bare or revealing, unless you want your girls to freeze in the cold temperatures! Finally, the fabrics should be heavier and more structured than spring and summer materials – consider how uncomfortable a satin mermaid dress would feel in hot weather, and how out-of-place a breezy chiffon frock would seem outside a snow-covered venue.
Take inspiration from the following winter brides, who chose gowns that kept their 'maids comfortable and warm as well as beautifully festive for the season. For these brides, sparkle, pretty neutrals, rich colors, and weather-friendly design guided their choices. With gowns as pretty as these, who says "wedding season" has to be during the summer? A winter wedding can be truly magical!
Is anything quite as festive as silver glitter? These dresses complement New Year's Eve weddings especially beautifully, and the short sleeves give enough coverage to keep bridesmaids comfortable in chilly temperatures! Dresses by Synderela; Photo by Liz Banfield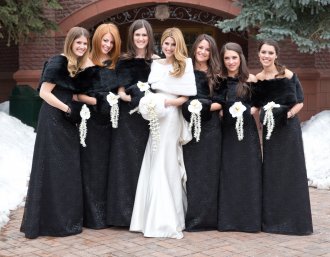 Play up the winter season by accessorizing with fur wraps and muffs. Be sure to choose neutral colors to keep the look sophisticated. Dresses by Alvina Valenta; Photo by Aaron Delesie Photographer
The colors of the winter season: jewel tones of any shade, like green, red, and this beautiful deep blue. While the shade might seem too vibrant for a celebration in warmer months, it's perfect for a December or January wedding. Dresses by Monique Lhuillier; Photo by Amy & Stuart Photography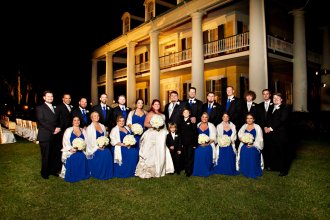 Who says bridesmaids have to be identical? Let each 'maid choose her own gown within a family of colors like these berry-hued frocks. Dresses from The White Closet Bridal; Photo by Sarah & Ben
These high-necked lace bridesmaid gowns are super chic. Bouquets of white roses complete the sophisticated look! Dresses from David's Bridal; Photo by Amy & Stuart Photography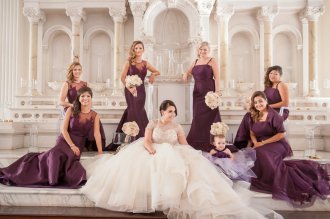 A bit of sparkle and shine brings holiday cheer to a winter wedding. The V-neck and mermaid skirt of these sleek gowns add the perfect amount of drama.
You know your girls are going to get chilly during the ceremony, especially if it's outdoors, and during alfresco photography sessions. Soft, cozy pashminas double as practical wedding-day accessories and beautiful thank-you gifts. Dresses by Bill Levkoff; Photo by Kevin Beasley Photography
Conventional wisdom claims no one at a wedding can wear white except the bride. But these chic ivory peplum dresses prove that not only is that "rule" completely false, crisp white dresses beautifully complement the winter season.
The key to winter bridesmaid style is vibrant color paired with pops of neutrals – in other words, these gorgeous eggplant dresses and ivory bouquets. Remember: illusion necklines are a beautiful way to show a little skin without getting too cold! Dresses by Noir by Lazaro; Photo by KLK Photography
Lace is your best friend if you want your 'maids to look beautiful while also retaining some modesty. Navy blue + lace cap sleeves = perfect for winter! Dresses by Jim Hjelm; Photo by Renee Sprink Photography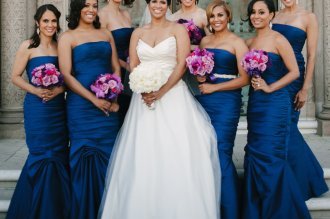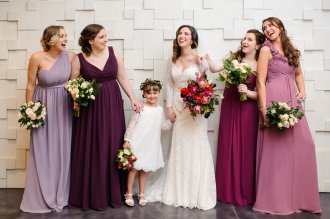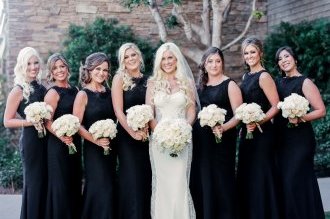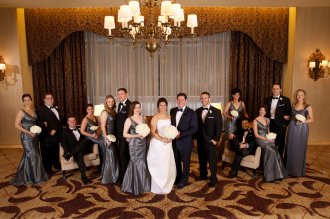 Source: www.insideweddings.com